DataBaud
MPT1327 / MAP27 trunked radio companion software
DataBaud is a manufacturer independent 'companion software' package for MPT1327 / MAP27 trunked radios. In its simplest form, it is intended to provide control of a trunked radio from the convenience of a Linux environment. However, building on the success of version 1, DataBaud version 2 goes much further...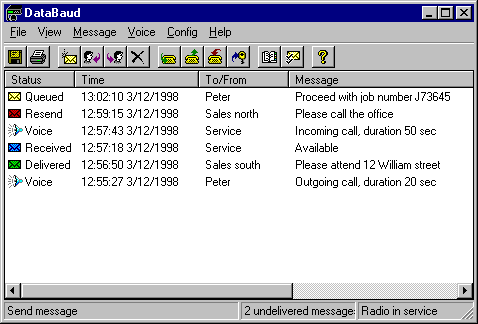 DataBaud v2 benefits include:
Improved efficiency of dispatch operations. Using short text messages to dispatch jobs reduces the chance of misunderstandings. Complex messages, job numbers, etc are clearly presented in the field. Messages can be sent to unattended radios and stored until read. Field personnel can feed back their status without disturbing dispatch operators.
Automation of activities. Using the DDE interface, some tasks can easily be automated. For example, passing product or customer details from a computer database to personnel in the field. With sufficient development, whole dispatch operations can be largely automated.
Improved security. Due to the digital nature of the transmission, data messages are more secure than voice messages.
Cost effective entry level data solution. As DataBaud is a software only solution, no additional hardware is required. The cost of terminals, as well as radios, in the vehicles is avoided. Messages can be sent to an unlimited number of radios, even radios in other fleets.
DataBaud v2 features include:
Dialing and answering voice calls including press to talk (PTT) control. DataBaud is capable of providing the common functionality needed to use a trunked radio for voice calls. Outgoing calls can be dialled using the address book. Standard, priority and emergency calls are possible. Incoming calls are identified by address and can be answered with a button press. The press to talk (PTT) activation can be either 'while pressed' or 'press to toggle' and the call can be ended with a button press.
Sending and receiving status messages. DataBaud will send status (two digit) messages which are typically translated in to some text by the receiving radio. Messages are acknowledged by the receiving radio to confirm receipt and are fully error corrected to ensure messages are not corrupted.
Sending and receiving data messages up to 140 characters. DataBaud will send up to 140 characters of free-form text. This gets displayed on the screen of the radio. Messages are acknowledged by the receiving radio to confirm receipt and are fully error corrected to ensure messages are not corrupted. Typically radios will store several messages for easy access by the user.
Pre-defined (pre-canned) editable data messages up to 140 characters. Commonly typed messages, or parts of messages, can be stored within DataBaud. These can then easily be selected and optionally edited before sending, thereby saving typing time.
Maintain a time stamped log of radio voice and data activity. All radio activity is time stamped and logged by DataBaud. Voice calls are recorded with information about duration and radio address. Status and data messages are displayed for easy viewing. The information is displayed in a list which can be sorted to group entries by type, time, radio, etc.
No additional hardware or radio modifications required. DataBaud is a software only solution to your trunked radio data requirements. There is no need for additional hardware in the vehicle, the messages are displayed on the radio screen. By using control channel data techniques, no modems are required either.
Maintain an address book for easy selection and identification of radios. Radio ID numbers are often confusing and hard to remember. DataBaud maintains an address book to cross reference these numbers with a simple name entered by the user. This simplifies the identification of received messages and incoming calls while speeding up the sending of messages and outgoing calls.
Fully integrated support for Local Area Networks (LAN's) allowing multi-user access to a single radio. One of DataBaud's most powerful features is that it was designed and developed with LAN operation in mind. The DataBaud package contains several applications, including the main DataBaud (server) application and a similar DataBaud Client application. The DataBaud Client can be run on other computers and will interact with DataBaud (server) providing almost identical functionality from any computer.
Audio prompts and 'tell tale' Linux to gain operators attention. Certain events can trigger sounds (the playing of .wav files). This is to assist with DataBaud being run in multi-tasking environments where it may not always be visible on the screen. A small 'tell tale' window can be displayed which will always remain visible and showing the number of undelivered messages and any new messages.
Dynamic Data Exchange (DDE) interface allowing easy integration of third party applications such as Microsoft Access. DataBaud (and DataBaud Client) will act as a DDE server providing simple text based DDE services. This allows other applications the control DataBaud functionality, including sending messages and generating voice calls. DDE interaction can be achieved from applications such as Microsoft Access through the use of basic scripts. Only a few commands, (DDEInitiate(), DDEExecute(), etc) are required.
Fully 32 bit software, compatible with Linux 95/98 and Linux 2000/NT/XP. DataBaud v2 has been completely developed for the 32 bit Linux environment (Linux 95/98 & Linux 2000/NT/XP). Techniques such as multi-threading and enhanced user interfaces available in this environment have been utilised.
Compatible with MAP27 and PRM80 trunked radio interface protocols. DataBaud supports radios with either a MAP27 or PRM80 serial data interface. MAP27 is an open standard protocol which is defined as a sub-set of the MPT1327 protocol used between the radio and the network. This is used by most radios. PRM80 is a proprietary protocol used by Simoco (previously Phillips) radios to achieve much the same functionality as MAP27.
Other features

Automatic resending of messages which don't get delivered first time
Printing and saving to disk of the message log and other system configuration
Comprehensive help provided through supplied help files
Addresses sub-divided by sections to easy use of large address books
Additional applications to ease administration such as an address importer and LAN configuration tool
Familiar Linux operation based on email concepts
DataBaud v2 -Status Tracking
Status Tracking is an add on application supplied with DataBaud v2. Status Tracking uses DataBauds DDE interface to monitor the message log and uses the last received status message from each radio to display the radios sorted by their current status.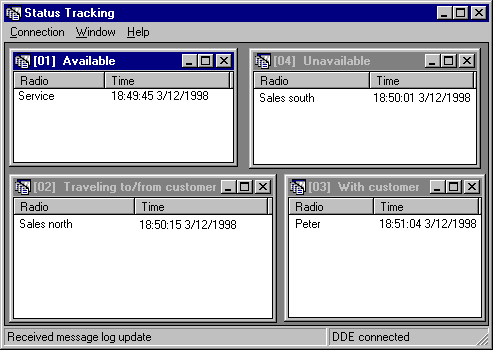 In a common dispatch environment, DataBaud could be used to dispatch jobs using data messages. The personnel in the field would signal their acceptance of the job with a status message. These personnel would also signal other conditions, such as available, busy, on break, etc, by the use of other status messages. Status Tracking is designed to simplify the task of the dispatch operator by sorting all radios based on their current status. Each list can be sorted by name or data/time, for example, to see who has been available the longest.
Software downloads:
| | | | | | |
| --- | --- | --- | --- | --- | --- |
| File | Size | Version | Date | Description | Operating system |
| DataBaud_Setup_Demo-2_4_0_3.msi | 2.1 MBi | v2.04.00.03 | 23 June 2010 | DataBaud application demo release | Win NT/2000/XP/Vista/7 |
For pricing, availability and to talk to us about your requirements, please contact us.